Sam Wilford and IDWe Racing GP2 team had a tough weekend at Round 5 of the British Superbikes GP2 Championship at Knockhill in Scotland.
Free Practice on Friday was hard going trying to find the right setting for the Kalex Moto2 for the Scottish circuit.
With changes made overnight for qualifying, Sam and the team were confident to take a big step forward.  Unfortunately 5 minutes into the qualifying session, Sam was running a good pace and getting a good feel on a used tyre until he crashed at the top of the chicane falling heavily on his right shoulder.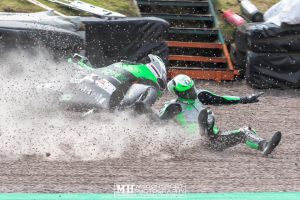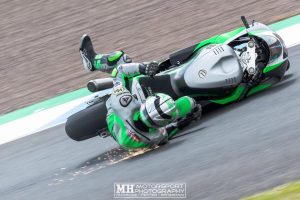 The team worked well to rebuild the damaged bike to be ready for Race 1 but with weather too severe to allow any racing on Saturday afternoon, the sprint race was postponed to Sunday morning instead of the usual Saturday afternoon. The sprint race started at 10 am on Sunday morning in wet conditions but Sam struggled to get comfortable on the bike and finished 16th on the road and 5th GP2. With the 26 lap Feature race still to come later in the afternoon.
The feature race started in dry weather and with Sam starting in 16th on the grid it was going to be a tough race. Still struggling to be comfortable on the bike and ride as normal Sam managed 14th on the road and 4th GP2 narrowly missing out on the podium.
IDWe Racing will be back on track for a test next week so Sam will be working hard to regain his fitness and be strong for Round 6 at Snetterton 19-21 July.
Photography courtesy Bonnie lane Photography & MH Motorsport Photography