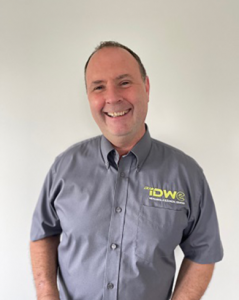 IDWe Ltd would like to introduce you to Ian Wilford, Managing Director.
Ian has been a part of the electrical and mechanical community for over 30 years, and he works extremely hard to deliver quality and service for his clients. He strives in creating innovative ideas to meet the needs of his client's business, with minimal disruption to their services or to meet a specific deadline.
We have been lucky enough to pull Ian away from his busy schedule and get the opportunity to find out more about Ian's working background…
What's your experience in electrical and mechanical services?
I have worked in the electrical and mechanical services industry for numerous years and have got to know a lot of people in the industry in London and the southeast.
Why did you set up IDWe Ltd?
While working in the industry many years ago, I noticed companies were not delivering quality or going the extra mile to help their customers. I wanted to change all of that and show that if you deliver experienced workmanship and quality, you can start to build trust with your clients. I have carried this with me through the years and we have grown and grown. I have also encouraged a 'can do' attitude to always try and solve a problem for a client and help. The team look after the business needs of major blue-chip projects through to individually bespoke fabrications and fit outs.
What's an average day for you at IDWe Ltd?
Certainly, no day is the same, I may be on site in London to visiting a local community leisure centre, then back in the office seeing how the team are getting on.
What's your favourite part of the role?
Just seeing the difference, we can make to help a business function better on a day-to-day basis and meeting new people.
What are your interests outside of work?
I have a huge passion for motor bike racing professionally, as my son Sam Wilford and the IDWe Ltd Racing team compete in the Spanish & Portuguese Championships. Also, if you would like to know more about opportunities of getting involved with Sam Wilford and IDWe Ltd Racing team, please email me on racing@idwe.co.uk
Describe yourself in three words 
Reliable, honest & loyal