Our latest new starter…
Craig Peters, Air Conditioning Engineer.
What made you want to become an air conditioning engineer?
I decided that I wanted to use my existing electrical knowledge from my background as a vehicle technician and transfer my skills over to something I enjoyed more, as I had always had a great interest in air conditioning.
Why was IDWe Ltd the right fit for your new role?
I had heard of IDWe Ltd through their reputation, I have also seen their vans driving around. I wanted to further my career with an established team orientated company.
What's your average day?
Every day is different – which is great! I could be working on a large blue-chip corporate building to more bespoke units for NHS hospitals, leisure centres or schools.
How do you see the next few months progressing?
I will be learning new skills as I go, expanding my knowledge and experience to help support clients with their needs.
Describe yourself in 3 words 😊
Hardworking, team orientated and ambitious.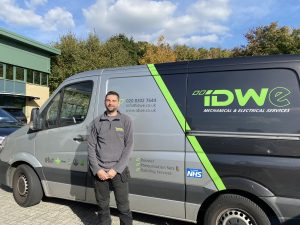 Hear what Ian Wilford, our Managing Director had to say about Craig joining the team:
"Craig has joined the team recently; he has dived right in, and it feels like he has been a part of the team for ages. He is experienced enough to work alone or alongside other team members. Craig is already proving to be a valuable team member."