The IDWe GP2 Race Team rolled out their 2018 Kalex Moto2 bike for their first full 4-day winter test this week at Jerez in Spain.
Sam Wilford who will be competing in the British GP2 Championship this season, on board the Honda-powered 600cc Kalex Moto2 machine, which was collected from Gresini Racing at the final round of the Moto GP Championship in Valencia at the end of last season.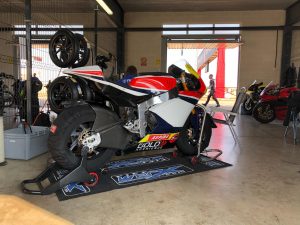 Sam said about the test " It has been great to get out on the new bike here at Jerez and try out lots of different options in the test. I have done hundreds of laps this week, and we have learned a lot and feel we have a good setting to take to the Cartagena Pro-test at the beginning of March."
Andy Jamison, data engineer who joined the IDWe Race Team this season to get the most out of the Moto2 race-bred machinery also commented,
"Testing at the start of this season really is "testing"; I am obviously a new element to Sam and the IDWe Race Team. We are also heading into uncharted territory with the beautiful Kalex Moto2 machine, so I'm learning to work with and understand Sam and his feedback, while he gets used to how I work, and what I can and cannot do to help him get faster. Add to that, we are all working hard on understanding a very different and massively adjustable Grand Prix race bike!!
I feel that we have laid the groundwork so that we can now start looking for pace rather than gaining an understanding of our package. Sam is now feeling comfortable and is starting to experiment with different lines and a different approach to what he would have done on the R6, and I feel that I have a better understanding of how best to deliver improvements from the bike! All in all, we're all pretty excited about getting on to the Pro-Test and seeing how we stack up within the BSB Supersport/GP2 field.
Finally, I'd like to throw a big shout out to Dave Lewis for his sterling work throughout the pre-season build up."
The team will return to Spain for the Cartagena test in March ahead of a pre-season test on the 28th March at Silverstone, to be fully prepared for the first round of the championship on the 19th April 2019.
Follow Sam this season on