IDWe Racing's Sam Wilford struggled with set up for his Kalex Moto2 machine at Round 6 of the Bennetts British Superbike GP2 Championship at Snetterton last weekend.  Sam has been searching for the pace he showed at the start of the season over the past couple of rounds and during a 4-day test at Aragon in Spain for the European Moto 2 Championship, the team competed in a week before BSB back in Snetterton.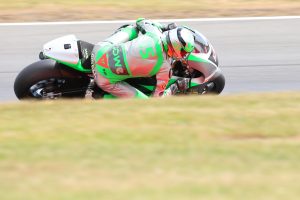 Qualifying in 19th place on the grid and finishing 6th Moto2 in Race 1 on Saturday the team were perplexed at what the issue could be that affected the performance so greatly. Andy Jamison Crew Cheif decided that a full investigation was needed to get to the root of the problem. Late on Saturday evening, an issue was found with the front forks that affected the handling of the bike.
Sunday's morning warm-up was crucial to see if the new forks would make the difference Sam and the team needed. Sam went quicker in the 8-minute warm-up than he had been all weekend and the team were pleased they had solved the issue heading into Race 2 on Sunday afternoon.
The weekend continued to be complex with Sam starting at the back of the grid after a starting issue but fought his way through the pack to end up 4th Moto2 narrowly missing out on a podium.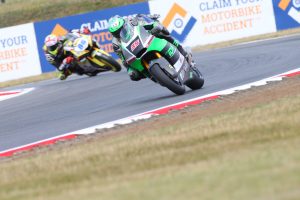 Sam Wilford said " Snetterton has been a tough weekend all round but I am so happy with how the bike feels now compared to the start of the weekend. We can build from here and get back to fighting at the front again. I am looking forward to Thruxton now with these changes and it is a circuit I like and have gone well there in the past, so let's see what we can achieve there. I want to thank Andy and Ian for all their hard work over the weekend, they never stopped working to give me a bike I could fight with to be back at the front.
Sam and IDWe Racing will be back on track at Round 7 at Thruxton near Andover in Hampshire on 3rd – 4th August.